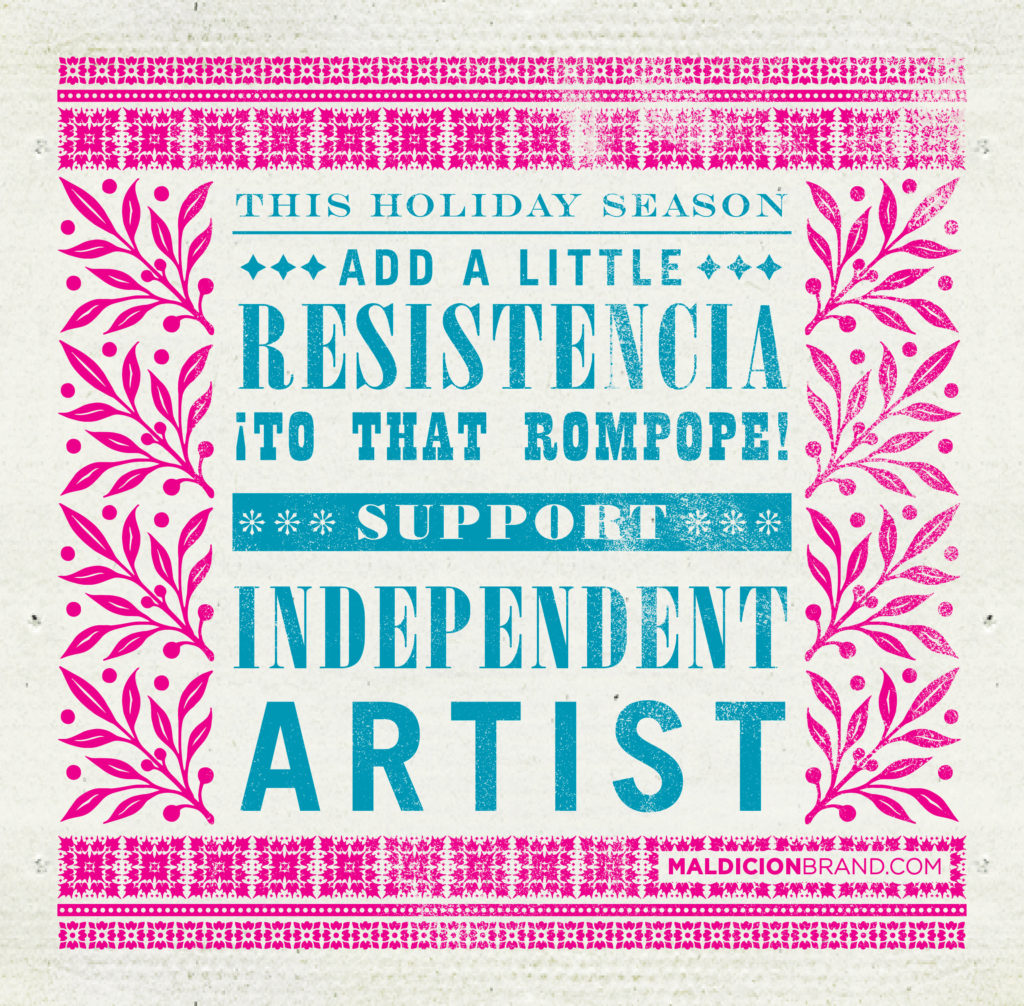 For all of you that are tired of getting and giving crappy and uninspired gifts… Here is a small list of inspired artist that can make your holiday a little more chingon by adding a little Resistencia to that rompope.
If you are looking for a good book look into
Broken Sword Publications LLC.
http://www.brokenswordpublications.com
Sandra Cisneros (Has a new book out)
For badass Lowrider Photographs
Chicano Soul
http://chicanosoul.myshopify.com/
Check out his book too Lowriting
If you are looking for Art/ Paintings or Prints
Crystal Galindo
http://www.crystalgalindo.com/store
Frankie Franco
https://www.facebook.com/frankie.franco.5/about
Chucha Marquez
Adrian Delgado
http://adelgadoart.squarespace.com/
Melanie Cervantes and Jesus Barraza
Olivia Hernandez
http://oliviahernandez.bigcartel.com/
Rommy Torrico
Culture Strike
http://culturestrikeprints.flyingcart.com/index.php?p=home
Lalo Alcaraz
For Music Check out
Las Cafeteras
http://lascafeteras.bigcartel.com/
A Tribe Called Red
http://atribecalledred.com/shop-2/
Thee Commons
https://theecommons.bandcamp.com/
Sol Life Music
http://www.estella-sanchez-opi0.squarespace.com/artists/
World Hood
https://worldhoodmusic.bandcamp.com/album/world-hood
Chicano Batman
http://chicanobatman.bigcartel.com/
La Santa Cecilia
http://lasantacecilia.bigcartel.com/
Porter (Guadalajara)
For jewelry
Frida Inspired
Chingona Shop
Shop Soldadera
Mischievous Charm
https://www.etsy.com/shop/MischievousCharm
For Hats/ Caps
Barba Norteña
For Fresheners
Fuchila Fresheners
http://www.fuchilafresheners.com/
If you are looking for a shop try
Tu Tienda Azteca
3104 Fruitvale Ave.
Oakland, Ca.
Kulture
1006 24th St.
Sacramanto, Ca.
Quetzal Boutique
squareup.com/market/quetzal-boutique
3509 East 1st St.,
Los Angeles,
CA 90063
If you are looking to give someone a donation this holiday season here are a couple places for that do great things to help educate and empower the community.
Sol Collective (Sacramento)
94.1 KPFA Pacifica Radio (Berkeley)
https://secure.kpfa.org/support/
Latino Center of art and Culture (Sacramento)
Galeria de La Raza (San Francisco)
http://www.galeriadelaraza.org/
ALAS: Ayudando Latinos A Soñar (Half Moon Bay)
https://www.facebook.com/alasdreams/info/?tab=page_info
MILPA (Salinas)
http://www.milpacollective.org/
And finally for T-shirts Hit us up
Maldición
These are all puros Chingones y Chingonas, Artist/ Designers and craftspeople, most of which we have met while on our journey as an independent brand or have had a good experience with their artwork (with a few exceptions). Most of them are from California (specifically Sacramento and the Bay), but most importantly they are doing social conscious work that helps inspire, empower and educate our comunidad. I hope this list helps you find a special gift for that perfect someone… (or yourself, we won't judge). ¡Felices Fiestas! And Support Local Independent Creatives.
P.S. Feel free to add any Creatives/Artist/Designers and craftspeople in the comment box that you know. I am sure there are a lot of others out there doing great things.